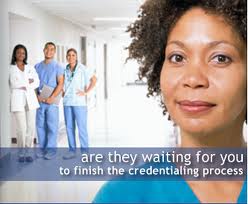 Credentialing with the government and commercial payers is challenging any way you slice it. Our job is to make this process as painless for you as possible. We take care of everything from start to finish and allow you to focus on other things. We offer physician credentialing services in all 50 states and have successfully credentialed hundreds of physicians over the years. Our team of experts understands the insurance companies but as former practice managers we also understand what these insurance contracts mean to your bottom line. We provide insurance credentialing services to Solo or Group Nurse Practitioners and Physician Assistants, Group Physicians, Solo Physicians, and Hospital Employed Providers.
Our new physician credentialing services can include all or parts of the following:
CAQH Registration
Commercial Insurance Credentialing / Physician Credentialing (Overview of Credentialing Process Here)
Managed Care & Government Payer Credentialing
Workers Compensation Credentialing
Medical License Application Processing & Tracking
DEA Registration & Tracking
NPI Registration (Type I & Type II)
Individual Medicare Enrollment
Medicare Enrollment for Group & Reassignment
Commercial Insurance Contracting
Payer Fee Schedule Creation & Evaluation
Management of all Credentials
What is Physician Credentialing?
Physician Credentialing is often referred to as Primary Source Verification and is the Physician Credentialing process that hospitals, health plans and other facilities go through to verify the credentials of a particular physician. Physician Credentialing is also often used interchangeably to mean insurance enrollment, and that is what this page is all about. As a company, the Firm Services does not provide primary source verification services (verifying credentials), but we do credential hundreds of providers every year with insurance plans across the country. Whether it is Medicare, Medicaid, the various commercial insurance plans or even the workers compensation network, our team of enrollment specialists have decades of experience, and will ensure your practice receives the care and attention it deserves. We have providing this service to clients nationwide for nearly 20 years. Our clients include major hospital systems, large multi-specialty groups, single specialty groups, solo practitioners, nurse practitioners, physical therapists, behavioral health specialists and everyone in between. We focus on getting you enrolled quickly to eliminate any delays in payment.
To discuss credentialing for large mutli-specialty groups or individual practitioners, call The Firm's Credentialing Experts for assistance at (512) 243-6844 or email– [email protected]