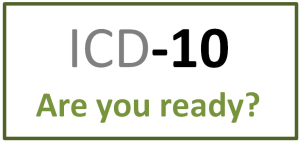 February 22, 2016 | Carl Natale, Editor, ICD10Watch
It's only a guess, but the ICD-10 transition doesn't look like it is taking down the U.S. healthcare system.
So far, there are reports of minimal productivity drops and denial rate increases. But some reimbursement delays are being reported.
It's not a perfect environment, but it doesn't appear to be a toxic one either.
There's an argument to be made that close enough now counts in horseshoes, hand grenades and ICD-10 coding for Medicare. Since the Centers for Medicare and Medicaid Services (CMS) accepts codes from the correct ICD-10 family, some healthcare payers have followed suit.
Reports suggest that as many as 25 percent of codes include the term unspecificied — and that could be keeping denial rates in check.
What's more, it's reducing pressure on healthcare providers to document a high degree of specificity. And they may be skipping some secondary diagnoses that don't affect reimbursement, according to Katherine Rushlau. Which would help physicians and medical coders keep records moving.
There's a way to keep productivity up. (Or prevent it from sinking.)
But is this going to work after Oct. 1, 2016? That's when CMS plans to require ICD-10 specificity. We don't know when private healthcare payers will want providers to get more specific.
That's why Amy Sullivan, vice president of revenue cycle sales at PatientKeeper, is worried about more vigorous complaining and animosity when the specificity deadline approaches.
The only way seen to prevent worse reimbursement problems is to improve clinical documentation that supports ICD-10 specificity and other healthcare payer initiatives that are coming.
Questions about ICD-10 reimbursement? Physician Credentialing and Revalidation ? or other changes in Medicare, Commercial Insurance, and Medicaid billing, credentialing and payments? Call the Firm Services at 512-243-6844 or [email protected]