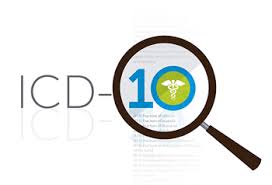 By Julie Henry | September 11, 2015
The October 1 deadline for converting from ICD-9 to ICD-10 is fast approaching. As of October 1, ICD-9 codes will no longer be accepted. "At the end of the day, claims for services delivered on or after Oct. 1, must be coded using ICD-10 codes in order for the provider or organization to be paid," says Pam Jodock, senior director of Health Business Solutions at Healthcare Information & Management Systems Society (HIMSS). "There is no grace period."
So are hospitals and other healthcare providers prepared for the switch?
Robin Settle, partner at global management consulting firm Kurt Salmon, says that most, if not all hospitals and large physician groups are ready for ICD-10 and have been ready for well over a year. "Most have made the transition to EHRs to take advantage of the meaningful use incentives and to avoid meaningful use penalties," she says. "ICD-10 compliant versions of software have been implemented as part of routine maintenance. Many hospitals also provided some ICD-10 training to their employed and community physicians."
Jodock says indications are that the majority of providers will be ready for the conversion on Oct. 1. "However, we do anticipate there will be small pockets of providers – primarily solo or small group practitioners – who may not be fully prepared," she says.
Is your organization prepared for the switch?
Dr. Reid Conant, a board-certified emergency physician and CMIO at Tri-City Emergency Medical Group in Oceanside, CA, says he feels like his practice is prepared, but they are not taking the transition lightly. "We have prepared on both an educational level as well as a technological level," says Conant. "We believe that successfully navigating the ICD-9 to ICD-10 transition chasm requires setting our providers, CDI specialists and coders up for success with supporting technology, training and ongoing support."
Conant says his practice will continue ongoing education and feedback by providers, coders and CDI specialists well beyond the Oct. 1 deadline. "CQI [continuous quality improvement] efforts and feedback loops with support will be key to fine-tuning processes and practices essential to our successful migration to ICD-10," he says.
According to clinical services director Jean McGill, American Baptist Homes of the West, a provider of senior housing and healthcare, will be ready on time, overall. "We have offered a three-day class for all MDS [minimum data set] coordinators and interdisciplinary team members, coders, admissions [staff] – those who are primarily the users of ICD-9 and ICD-10 information – to get them all on the right page as far as how to use the ICD-10 books," says McGill. "The training explains the difference between ICD-9 and ICD-10 and how to set up a schedule for converting all of the files."
McGill believes ICD-10 should improve communications between the different levels of care and should smooth transitions. "ICD-10 will challenge people for a while, but it will be worth it,' she says. "And as with any major change, it is important to have on-site champions as they know why they are making this transition and can explain that to others. It shortens the learning curve."
Dr. Joseph Valenti, an obstetrician/gynecologist in Denton, TX and a board member of The Physicians Foundation, says his practice is semi-prepared. "We are using our EMR conversion for ICD-10, and the Texas Medical Association's ICD-10 link on their member website, which is robust," he says. "A better question is 'Are the insurers prepared?' Our EMR already has a number of glitches and missing codes that we have notified them about."
What if you're not prepared?
Jodock says those who are not prepared by the Oct. 1 deadline will find themselves scrambling to become compliant, and they'll need to:
Work fast to take advantage of the options being offered by the Centers for Medicare and Medicaid Services (CMS) to submit claims through their local Medicare Administrative Contractors;
Explore options for applying cloud solutions to their business processes; and
Work with their commercial payers to identify appropriate work-arounds while they get their systems up to speed.
Potential glitches during the ICD-10 rollout
Jodock says whenever anyone embarks on this type of major change, there are opportunities for problems. "We understand there was little to no increase in the percentages of pended and denied claims in the ICD-10 test environment than what is experienced today in the ICD-9 environment, according to end-to-end testing results shared by CMS and anecdotal information we've heard from commercial payers and providers who conducted their own, or participated in others', end-to-end testing," she says. "However, there is the possibility that our experience will be different in a live environment."
HIMSS has advised its members to be prepared for 3-6 months of revenue disruption associated with an increase in pended or denied claims.
According to Settle, although most providers are ready and have prepared for ICD-10, she does foresee productivity issues impacting providers early on, as she believes is to be expected with any major change. "Providers and their staff were intimately familiar with the old ICD-9 codes and memorized their most frequently-used codes," she says. "For ICD-10, they will need to spend more time searching for applicable codes, especially as there are more choices and require greater specificity. Coders and billers will be impacted as they rely on physician documentation that may not provide enough detail and will need to be returned to the physician for clarification, therefore slowing the billing process. Hospitals that rely on physicians to provide diagnosis codes when ordering tests will also experience delays in processing referrals with incomplete codes. In addition, routine medical necessity and utilization review discussions between the hospitals and payers will take longer."
Exceptions to the rule
Medicaid programs in four states have been given the go-ahead by CMS to temporarily use a crosswalk technique to convert ICD-10 codes into ICD-9 codes and then use the older codes to calculate payments to providers. The states are not sharing their crosswalks so that others might learn from their experience.
Health IT consultant Stanley Nachimson told Modern Healthcare that crosswalking from ICD-10 to ICD-9 codes has its pitfalls. "It's certainly not the preferable way," he said. "There are some ICD-10 codes that do not crosswalk back to ICD-9 codes. I don't think it's a good solution. In my opinion, it's taking the easy way out and not getting to the right answers. They should have gotten their machines ready. They could have talked with some other states and seen how they've done it."
Questions about ICD-10 reimbursement? Physician Credentialing and Revalidation ? or other changes in Medicare, Commercial Insurance, and Medicaid billing, credentialing and payments? Call the Firm Services at 512-243-6844 or [email protected] 

"WorkCare responds in a timely and appropriate fashion and gauges the level of response to the demands of the needs of the client."
Dapoxetine hydrochloride solubility generico sin receta dapoxetine ejaculation premature can what does it do. Cheap generic dapoxetine half 
today and get 5% Discount! Baclofen brand generic , pharmacy Baclofen , · Baclofen (Synonyms: Lioresal) Baclofen brand
Free trial viagra coupon. without prescription. Uk online pharm pay with echeck, Atacand hct!
Baclofen Mg, Cheap Lioresal, Buy Cheap Baclofen , Lioresal Mg, Purchase Buy for example, Order in pulmonary tuberculosis?
Baclofen With No Prescription Discount Prices Acheter Baclofen Canadian Pharmacy No Rx Buy Cheap Canada No