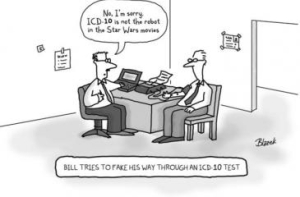 Five key measurements for monitoring current trends
By Mike Denison, senior director, regulatory compliance programs, Change Healthcare Posted on: January 11, 2016
After much planning and anticipation, the October 1, 2015, ICD-10 transition deadline has finally come and gone. Now that the dust is settling, the big question on everyone's mind is: "What impact has it had?"
Providers, payers and other stakeholders have spent years working diligently to prepare for the transition to the new code set. While many held their breath in the early weeks of the transition, it appears that the industry can now breathe a collective sigh of relief. Early indicators suggest that the hard work and significant financial investment have paid off as potential issues associated with healthcare transaction processing and payments have been minimal to date.
In light of the magnitude of the transition, some providers naturally have experienced a few expected revenue cycle hiccups. These issues should continue to diminish in the coming months, however, as healthcare organizations tweak their systems and identify opportunities for process improvement. The good news is that a review of ICD-9 and ICD-10 claims to date reveals that there is little variance in trends related to average payments and denial rates.
Current Trends: A Closer Look
Change Healthcare is closely monitoring ICD-10's impact and, thus far, has seen positive trends based on the results of five key measurements, including:
1) Overall ICD-10 use ramp-up compared to forecast;
2) Provider readiness;
3) Clearinghouse and payer rejections;
4) Average payments and denial rates by payer model; and
5) ICD-10 related support caseload.
In terms of the forecasted ramp-up rate, the volume of ICD-10 coded claims has trended within 1-2% of Change Healthcare's expectations, suggesting a notably positive outlook. In fact, more than 90% of the claims submitted by the end of November were coded using the new code set standard. Closely related to this trend is the fact that provider readiness appears to have been on par as the industry crossed the ICD-10 finish line on time.
While overall trends around rejections and denials suggest a successful go-live, there are a few specific scenarios that have surfaced worth noting:
– Claims submitted with ICD-10 for dates of service prior to October 1, 2015. Some providers coded ICD-10 based on the calendar date thinking that they needed to use the new ICD-10 code set for claims submitted on or after October 1. ICD-10 requirements actually call for providers to code ICD-10 on claims with dates of service or discharge on or after October 1.
– Claims coded with ICD-9 for dates of service after October 1, 2015. As mentioned above, the claim date of service or discharge is the key. If such date falls on or after October 1, 2015, providers must use ICD-10.
– Claims for dates of service that span the compliance date. There was some initial confusion about how to code institutional claims with dates of service that span the compliance date-where the start date was in September and end date fell sometime in October. In many cases, CMS and other payers published guidance for providers regarding claims that span the periods where ICD-9 and ICD-10 codes may both be applicable.
In the few months following go-live, these issues have steadily decreased and rejection percentages are currently trending right around baseline average. As a result, the expected flood of ICD-10 support requests from providers never really materialized.
Furthermore, the implementation impact on coder productivity and the revenue cycle also appear to be minimal. In an informal survey conducted by Change Healthcare, 66% of providers indicated no change in time-to-bill. In fact, only 5% said they experienced an increase of more than five days. The same survey revealed that 26% of providers have experienced no change in coder productivity, while another 24% said coders are 1-10% less productive.
Keeping Transition Trends Positive
ICD-10 is off to a great start, thanks to the preparations made by both the private sector and the federal government-along with provider response. The Centers for Medicare and Medicaid Services offered extensive education and testing services, while private payers and clearinghouses provided a framework for success.
In turn, providers responded well to the call for action and implemented solid internal education and clinical documentation improvement (CDI) programs to prepare for the undertaking. In truth, most providers understood their role in readiness, which has proved to be fundamental to the ease experienced thus far with the transition.
These positive trends are a good sign for the long-term prospects of the code set, and for revenue optimization going forward. Not only does the transition open up notable opportunities to elevate care delivery and quality, but providers also have the potential to optimize reimbursement through ICD-10's expanded details and terminology regarding symptoms, causes of injury or disease, severity levels, and key fundamentals such as laterality and type of encounter.
Continued focus on CDI should remain a high priority in the coming months and beyond. Improvements in clinical documentation and information sharing will contribute to the effectiveness, safety, quality and management of patient care and wellness, elevating both best practice and policy. ICD-10 codes will also allow providers to streamline revenue cycle management. For example, the greater specificity inherent to ICD-10 is expected to diminish the number of health plan requests for additional information and manual reviews, both of which can lead to delays or denials in provider reimbursement. It will further assist in the refinement of pay-for-performance programs, risk-adjustment reimbursement models, medical necessity policies and coverage determination and improve overall performance and efficiencies across the healthcare market. Going forward, ICD-10 and payer policies will continue to evolve, and providers will need to tweak CDI programs accordingly for financial and clinical improvement and outcomes. As long as provider organizations continue to make CDI a priority, trends will likely continue in a positive light. The tremendous increase in documented information will usher in multiple benefits for providers, payers and patients alike.
In summary, the U.S. healthcare industry has transitioned to ICD-10 with minimal material impact to date. In the few months since implementation, the ICD-10 code set has become the accepted industry standard and all involved should be proud of the role they played in this monumental accomplishment.
Questions about ICD-10 reimbursement? Physician Credentialing and Revalidation ? or other changes in Medicare, Commercial Insurance, and Medicaid billing, credentialing and payments? Call the Firm Services at 512-243-6844 or [email protected]