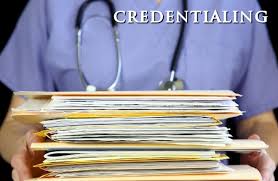 Provider credentialing and enrollment is an absolute necessity when running a successful physician practice. Becoming a provider with commercial and government insurance companies allows you to maintain steady patient referrals and cash flow which is the backbone of any successful practice. Avoiding these credentialing mistakes will ensure your credentialing and enrollment process moves along efficiently and effectively.
Here are the top 4 commonly made mistakes.
1. Incomplete Information
The most common mistake associated with credentialing is a lack of attention to detail. Application errors lead to delays and potentially denials. A typical credentialing application will ask for practice address, phone, fax, contact information, services provided, copies of your licensure, employment history, average patient profile and any records of past legal troubles regarding your medical practice.
Omitting or making mistakes on any of this data can lead to delays in your provider credentialing, and it can sometimes be grounds for a denial.
The solution? All your provider applications should go through a rigorous review process to certify accuracy before it is submitted to committee. Getting it right the first time means you'll get a new provider credentialed faster.
2. Lack of Follow-Up
Many plans are backlogged with credentialing applications. Make every effort to confirm your application was received and where in the process it is. If something sounds like it does not make sense, question the response. We often hear "I have no record of the application" and when presented with evidence of receipt via a trackable transit confirmation, the answer changes to "Oh, it is on my desk." Make sure you understand the answer before you accept it.
Follow-up at regular intervals and keep notes. Phone if you need to, e-mail your contacts and check web directories. With few exceptions, plans will not call you with updates or reasons for delays. The only way you will know is to follow-up on a regular basis. No one is more concerned about your application than you. Make follow-up a routine and planned event which does not stop until the application is approved and participation is secured.
3. Letting CAQH Lapse
CAQH profiles need to be re-attested, updated and the credentialing contacts kept current. Be proactive when receiving an updated insurance, license or DEA document and get it loaded to CAQH with an updated expiration date. You will avoid delays in re-credentialing if this is part of your routine process. Be clear on who has the responsibility to maintain CAQH profiles and make sure someone is copied when there is activity as a check-and-balance.
4. Not Planning Enough Time
Many practices get started too late, which can be a matter of success and failure for your practice. At a minimum you want to give yourself at least 90 days. Realize that you are working on someone else's timeline – the payer. The responsiveness of the payer to your application will be determined by their workload and their motivation to add new providers to their network. As payers have merged and supersized, a practice's ability to expedite an application has shrunk.
Credentialing your medical providers is labor intensive with few shortcuts. Yet practices need to maintain participation in a wide range of plans to remain competitive and to facilitate scheduling, coverage, timely payment and most important, keeping referrals within the organization. Working with a credentialing company can help you complete each phase without delays. They can provide you assistance with both government-based and private insurer applications as well as any CAQH and NPI requirements.
Questions about Physician Credentialing and Revalidation ? or other changes in Medicare, Commercial Insurance, and Medicaid billing, credentialing and payments? Call the Firm Services at 512-243-6844 or [email protected]