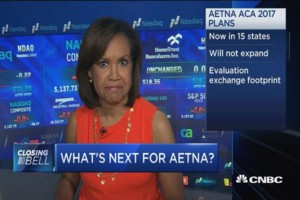 Aetna is sharply cutting its participation in Obamacare exchanges for 2017.
The health insurer said it will offer individual Affordable Care Act exchange plans in just four states, down from 15 this year, in an effort to reduce its losses.
"As a strong supporter of public exchanges as a means to meet the needs of the uninsured, we regret having to make this decision," Chairman and CEO Marc Bertolini said in a statement.
The insurance giant says it will offer ACA exchange plans in Delaware, Iowa, Nebraska and Virginia, slashing its Obamacare footprint by 70 percent next year. It will offer ACA plans in just 242 counties nationally, down from nearly 780 this year.
Aetna's announcement comes two weeks after the company booked $200 million in ACA-related pretax losses in its Q2 earnings report and nearly one month after the Department of Justice's antitrust division sued to block the health insurer's acquisition of rival Humana.
Humana has also announced it will sharply cut back from the exchanges. Its pullback, in the wake of UnitedHealth's departure from all but a handful of exchanges, means that hundreds of thousands of Obamacare plan members will no longer have access to plans from the nation's three major insurers in 2017.
Aetna has been one of the largest Obamacare players since the launch of the exchanges two years ago, offering plans in more than two dozen states. The Obama administration's chief executive of the federal marketplace attributed the insurer's departure to the forces of competition in an evolving insurance market.
"Aetna's decision to alter its Marketplace participation does not change the fundamental fact that the Health Insurance Marketplace will continue to bring quality coverage to millions of Americans next year and every year after that," Kevin Counihan, federal ACA marketplace CEO, said in a statement.
Officials at the Department of Health and Human Services note that as recently as April, Aetna's Bertolini had expressed strong support for the exchanges, telling analysts that it would have cost the company more than a $1 billion to acquire the million new customers it had signed up on Obamacare exchanges.
"It's no surprise that companies are adapting at different rates to a market where they compete for business on cost and quality rather than by denying coverage to people with preexisting conditions," Counihan said.
Bertolini said the problem is that ACA plan members tend to incur high medical costs, while the federal risk adjustment program meant to offset losses on those members has not been adequate. As a result, many insurers are losing money on the exchanges.
"More than 40 (health insurance) payers of various sizes have similarly chosen to stop selling plans in one or more rating areas in the individual public exchanges over the 2015 and 2016 plan years, collectively exiting hundreds of rating areas in more than 30 states," he said.
Still, Bertolini said he remains committed to the exchanges.
"We will continue to evaluate our participation in individual public exchanges while gaining additional insight from the counties where we will maintain our presence, and may expand our footprint in the future should there be meaningful exchange-related policy improvements."
HHS officials said despite Aetna's abrupt exit from 11 state exchange markets, Obamacare will still have a choice of three or more plans in many of those markets next year.
In Texas, nearly a dozen health insurers will still offer plans on the exchange, while Ohio will have 10 in 2017. In Georgia, where Aetna and UnitedHealth are pulling out of the state exchange, five health insurers plan to offer ACA plans in 2017.
But in some cases, competition will be greatly reduced. In Arizona, where Aetna and United are pulling out, the state's Blue Cross Blue Shield provider is cutting back in some counties. If state officials can't persuade any of the insurers to stay, some counties could be left with no exchange plan coverage next year, analysts say.
Obamacare open enrollment begins Nov. 1.
Questions about Obamacare? Physician Credentialing and Revalidation ? or other changes in Medicare, Commercial Insurance, and Medicaid billing, credentialing and payments? Call the Firm Services at 512-243-6844 or [email protected]