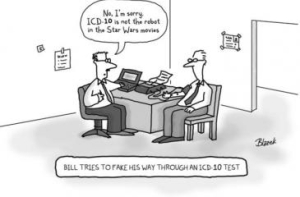 CARL NATALE MAR 2, 2016 – 06:15 AM
We're getting more data but it's not any easier to assess how the ICD-10 transition is going. Take a look at a few examples of data:
RemitData is reporting that Fourth Quarter 2015 denials have increased slightly in February 2016 compared to January 2016.
Relay Analytics reports that the denial rate has held steady at 1.6 percent since November.
Relay Analytics also reports that Days to Payment — "number of days from statement through date until payment is received from the payer" — has been falling since January. It's now at 42.8 days.
Relay Analytics' reimbursement rate is down to 27.7 percent.
Maybe five months isn't enough time to plot some real trends. Will we be able to declare trends on April 1 when there is six months of data?
What I find really interesting is Relay Analytics' list of slowest healthcare payers when measuring Days to Payment:
162.2 Days
BLUE CARE NETWORK HMO
117.5 Days
GEORGIA MEDICAID
105.3 Days
VETERANS ADMINISTRATION FEE BASIS PROGRAMS
102.5 Days
NEW JERSEY MEDICAID
88.2 Days
SOUTH CAROLINA MEDICAID
88.1 Days
UNITED RESOURCES NETWORK
87.1 Days
LOUISIANA MEDICAID
84.2 Days
PEOPLES HEALTH NETWORK
83.1 Days
KAISER PERMANENTE of GEORGIA
81.8 Days
KAISER PERMANENTE of COLORADO
They also have denial rates for healthcare payers:
59.7 %
MISSISSIPPI MEDICAID
17.1 %
INDIANA MEDICAID
11.5 %
WASHINGTON MEDICAID
7.5 %
GATEWAY HEALTH PLAN – MEDICAID PA
6.7 %
GREAT LAKES HEALTH PLAN
6.7 %
MICHIGAN MEDICAID
5.8 %
SOUTH CAROLINA MEDICAID
5.6 %
GEORGIA MEDICAID
5.3 %
NEVADA MEDICAID
5.2 %
MEDICAL MUTUAL OF OHIO
Just taking a quick look at these two charts, I'm assuming it's tough running a medical practice in Georgia.
These numbers may not give us an accurate picture of how U.S. healthcare is handling the ICD-10 transition but they help medical practices gain insights into how they're faring.
Questions about ICD-10 reimbursement? Physician Credentialing and Revalidation ? or other changes in Medicare, Commercial Insurance, and Medicaid billing, credentialing and payments? Call the Firm Services at 512-243-6844 or [email protected]