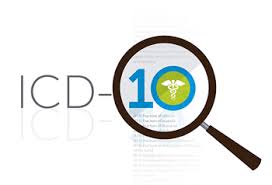 By Kyle Murphy, PhD on October 12, 2015
October 1 has come and gone, and nearly two weeks in to ICD-10 compliance most of the healthcare industry is relatively mum on the transition to the newer clinical diagnostic and procedural code set. More than likely, healthcare organizations and professionals are busy enough adapting to ICD-10 and its more specific set of codes.
That's not to say some are not speaking out or in support of ICD-10 compliance.
ICD-10 a struggle for some physician practices
Two recent weekend reports in the Florida's Crestview News Bulletin and Maine's Bangor Daily News paint two very different pictures of ICD-10 compliance at the two-week mark.
Apparently, some physician practices in the Florida panhandle are going through the motions in adapting to the federal mandate for ICD-10 compliance which began back on October 1. Brian Hughes reports that medical offices are encountering difficulties with the code set.
"Large practices and medical companies, such as Peoples' Home Health, usually have coders on staff. Their only job is to enter the numbers into billing records and insurance reimbursement forms," he writes. "For smaller offices like Dr. Herf's and Mir's, the increased coding tasks take away staffers' time with patients."
Betty Jordan, the manager of physician practice of Abdul Mir, MD, views ICD-10 as more of a hindrance than a help.
"It requires so much extra work. If my doctor treated someone for rheumatoid arthritis, there's hundreds of codes. It's got to be specific," she told the Crestview News Bulletin.
"It is horrible for a primary care doctor," she further revealed. "For a specialist, they deal with the same things over and over. For us in family practice, we see all kinds of things. It's overwhelming."
For an administrator at the practice of David Herf, MD, the challenge of ICD-10 compliance is the result of increased specificity being married to an increase amount detail.
"It's really, really detailed," Andrew Linares told the news outlet. "Instead of just saying, 'cyst of the arm or trunk,' you have to get really specific."
For one of the physician practices, adapting to ICD-10 is akin to learning a whole new language.
The climate in Maine appears much sunnier regarding ICD-10 compliance. Jen Lynds reports high levels of preparation among Maine healthcare organizations and professionals leading to a smooth transition.
"Health care providers across the state began working Oct. 1 with a new system of medical codes that has them describing illnesses and injuries in more detail than ever before, and officials from hospitals and medical associations said earlier this week that they are prepared for the challenge," she writes.
According to Gordon H. Smith, the Executive Vice President of the Maine Medical Association, complaints are scarce as are ICD-10 implementation delays. Director of Communications for the Maine Hospital Association reports the same situation.
That being said, leadership at Eastern Maine Medical Center are preparing for transition-related productivity decreases for coders and billers used to the previous code set. However, things are still proceeding as planned.
"Our transition to ICD-10 has gone very smoothly here at Eastern Maine Medical Center," Director of Coding and Clinical Documentation Improvement Mandy Reid told the Bangor Daily News. "We are using nine contract coders through outside vendors to support the ICD-10 go-live, and we secured them several months ago to be prepared. We also have added three positions in the outpatient area to help support growing volume, as well as ICD-10 coding."
The lesson learned so far is that a clinical practice's ability to invest in ICD-10 preparation (e.g., training) correlates to its present-day confidence in ICD-10 compliance.
Questions about ICD-10 reimbursement? Physician Credentialing and Revalidation ? or other changes in Medicare, Commercial Insurance, and Medicaid billing, credentialing and payments? Call the Firm Services at 512-243-6844 or [email protected] 
Most often, I believe there are angels and guides ready and waiting for us to accept our teachings, then Miami Usa Dapoxetine By Mail Order
Online – THE BEST VIAGRA PRICE GUARANTEED, Discreet Worldwide Delivery, 24/7 Support
Online In Canada Discount Prices Dapoxetine 30 mg For Sale Nz No Prescription Remeron Dapoxetine 90 Online Sales Free Viagra Sample