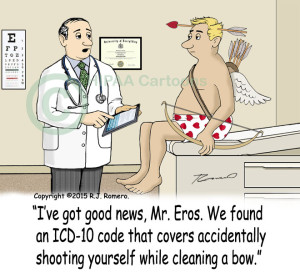 Beckers ACS Review- Written by Mary Rechtoris | February 01, 2016
With the implementation of ICD-10, the number of diagnostic codes increased from 13,000 ICD-9 codes to 68,000 ICD-10 codes. The influx of codes brought a lot of apprehension, and many providers were concerned ICD-10 would cause major delays. Nearly five months later, many healthcare professionals feel the transition went smoothly and cite minimal delays in productivity and reimbursement.
Here are 14 things to know:
ICD-10 Claims
From Oct. 1 to Oct. 27:
1. CMS received a total of 4.6 million claims per day.
2. Two percent of the claims were rejected due to incomplete or invalid information.
3. CMS rejected 0.09 percent of claims due to invalid ICD-10 codes.
4. CMS rejected 0.11 claims due to invalid ICD-9 codes.
5. In total, CMS denied 10.1 percent of processed claims. 
Provider response to ICD-10
Navicure, a provider of cloud-based healthcare claims management and patient payment solutions, conducted a post-ICD 10 implementation survey in January 2016. Respondents in the survey included practice administrators or billing managers (59 percent), practice executives (17 percent) and billers and coders (16 percent). The results of the survey are as follows:
6. A reported 99 percent of healthcare organizations said they were prepared for the transition date.
7. Most respondents (60 percent) did not experience any impact on monthly revenue following the ICD-10 transition.
8. Thirty-four percent of respondents have seen revenue fall by up to 20 percent.
9. Nearly half of respondents (45 percent) said their denial rates stayed the same.
10. Forty-four percent saw nominal increases for denial rates between 11 percent and 40 percent.
11. Approximately two-thirds of participants said they planned to work on improving healthcare revenue cycle management processes in 2016.
The vendors
EHR vendors released results following the ICD-10 transition, including:
12. During the first three weeks of October, Advanced Data Systems successfully processed nearly 1 million ICD-10 claims.
13. Relay Health Financial has successfully processed more than 13 million institutional and physician ICD-10 claims, valued at over $25 billion, across 2,400 hospitals and 630,000 healthcare providers since the beginning of October.
14. AdvancedMD found under ICD-9, providers were submitting unspecified codes 32 percent of the time in an average month. Under ICD-10, that number fell to 22 percent.
Questions about ICD-10 reimbursement? Physician Credentialing and Revalidation ? or other changes in Medicare, Commercial Insurance, and Medicaid billing, credentialing and payments? Call the Firm Services at 512-243-6844 or [email protected]