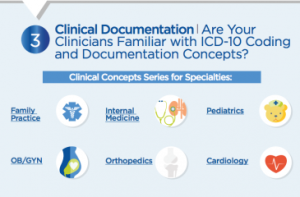 Carl Natale -FEB 3, 2016 – 06:28 AM
Guest post by John Kelly and Jay Sultan
This past year the healthcare industry finally saw the long delayed transition to ICD-10 coding. Not only was the implementation a leading focus in healthcare headlines of 2015, organizations didn't delay in taking to the airwaves to predict exactly what the outcome of the transition would mean for the industry. There was initial cause for concern – some experts worried about how implementing codes would affect doctor retirement, physician practice revenue and even productivity. But ultimately, the transition happened without too much disruption, and some organizations were quick to deem it a success.
According to a KPMG LLP survey, only 11 percent of healthcare organizations described the ICD-10 transition as a "failure to operate in an ICD-10 environment." On the other hand, 80 percent found the transition to be smooth. While this is good news for the industry, it might be too soon to call the transition a success. In fact, an ICD-10 crisis might still be a real possibility for some organizations.
The reality is this: we really won't know how well organizations are doing until we get through a least a fiscal quarter of claims payment activity in 2016. For some, an enormous increase in appeals or a crippled cash flow might still occur. Worse yet, the level of coding inconsistency among providers may significantly impair the risk adjustment models in place to support a variety of population based payment contracts. Inevitably, there will be at least a few organizations that wake up one day and realize they made bets on bad assumptions related to predicted shifts in coding behavior.
Most organizations tested for revenue neutrality using mapping models prior to the transition. Most, however, did not test for coding consistency across their networks, or even within their largest trading partners. The assumption there would be another delay or even cancellation of the transition completely led many providers to reduce the investment in training programs for ICD-10 implementation. Significant inconsistency among coding staff undermines the maps used to test revenue neutrality and, until the data is in, an ICD-10 storm might still be heading our way.
Also, most organizations did not fully test the various systems that use historical diagnosis codes for care management, financial management, and various data analytics. As we enter a period of years where we are using a mix of both ICD-9 and ICD-10 history, there are going to be some real challenges to achieving success and more remediation work that needs to happen.
To further complicate matters, when CMS lowered the bar on ICD-10 accuracy, it created a boomerang effect for commercial payers. The commercial industry assumed a level of coding accuracy based upon the ICD-10 rules and policies published by CMS that mandated detailed coding. The deal that CMS made with the AMA to provide a grace period in the accuracy of the detail may have significant financial implications for commercial payers. Payers and providers will be well-served by instituting a program for ongoing analysis that specifically compares their assumptions about the effects of the transition against the real time activity they are observing as claims accumulate over the next 12 months.
As we head into 2016, the industry will continue to keep its attention on the ICD-10 rollout and any challenges that may surface from the implementation. In the meantime, we should continue to brace ourselves for significant impact.
Questions about ICD-10 reimbursement? Physician Credentialing and Revalidation ? or other changes in Medicare, Commercial Insurance, and Medicaid billing, credentialing and payments? Call the Firm Services at 512-243-6844 or [email protected]