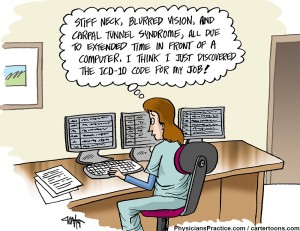 Carl Natale APR 8, 2016 – 05:58 AM
There is a strong feeling that the ICD-10 transition has gone better than predicted. Not a lot of healthcare providers have come out and given us their disaster stories.
Gabriel Perna did a decent roundup of ICD-10's first six months and cited a Physicians Practice survey that claimed 47.3 percent of readers weren't having any ICD-10 problems. I inserted the word claim because I'm doubtful the entire readership responded to the survey which makes the 47.3 percent stat doubtful. It's a semantic point I know.
It is interesting that the survey also says the lack of problems includes a claim rejection rate as usual. That point is strengthened by citing a Navicure survey that claimed 60 percent of medical practices weren't seeing a revenue impact. Which is not what the American Medical Association was predicting.
Perna backed that up by talking to a medical consultant and clearinghouse exec who say denial rates and revenue have been steady for their clients.
As a separate testimonial, Deborah Winiger, who practices family medicine in Illinois, wrote, "As of now we have had no coding issues with insurance companies questioning or denying claims due to coding. " She credits credits her electronic health record (EHR) and a short list of ICD-10 diagnoses needed day-to-day for making ICD-10 coding manageable.
Preparation also was a factor cited in Perna's story.
Robert Tennant, director of health IT policy with the Medical Group Management Association (MGMA), told Perna that all those delays gave healthcare providers a chance to get ready.
But Winiger has some awareness that healthcare payers may be giving her practice the benefit of the doubt. So maybe things will change if they start requiring more specificity. That concern was shared by Tennant and others in Perna's story.
In fact, some healthcare payers have been asking for additional information — which could be a sign that denials and rejections are coming.
One last assessment from Winiger: Maybe it's not creating patient benefits, but the ICD-10 transition hasn't been as disruptive as feared.
Questions about ICD-10 reimbursement? Physician Credentialing and Revalidation ? or other changes in Medicare, Commercial Insurance, and Medicaid billing, credentialing and payments? Call the Firm Services at 512-243-6844 or [email protected]