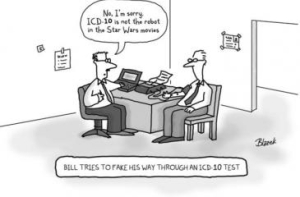 CARL NATALE APR 13, 2016 – 05:46 AM
The U.S. healthcare system is not paralyzed by denial despite the ICD-10 implementation. Either the ICD-10 codes are not as burdensome as critics warned or relaxed specificity requirements are letting a lot of unspecified claims through.
Even if ICD-10 denials aren't a tsunami of revenue disruption, they still are a challenge that should be monitored and mitigated.
It's a challenge getting a handle on it.
Allison Gilmore, principal data scientist for healthcare with Menlo Park, California-based Ayasdi, told Healthcare IT News that ICD-10 coding complicates the effort to analyze denial data in two ways:
There are only six months worth of data to examine. Small sample size makes it harder to recognize trends.
Because there are so many ICD-10 codes, the diagnoses are spread out. This sparsity creates lots of small sample sizes.
But the data needs to be collected.
For the Record magazine talks to Crystal Ewing, a senior business analyst and manager of regulatory strategy at ZirMed, and gets a couple tips for what to record in addition to diagnoses when it comes to denials:
Specific reasons for denials

Categories such as:

payer

procedure code

diagnosis code

coder

patient access staff member

scheduler

case manager

physician

referring provider
The article also makes the point that denial mitigation isn't all about the numbers and technology. People are at the heart of denial management. And it's not just medical coders who are expected to get the ICD-10 codes correct. Physicians need to understand how important it is to document medical necessity — which will be a major part of preventing denials.