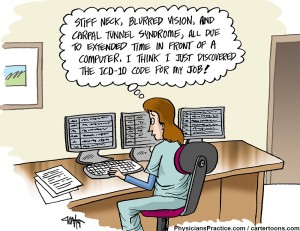 ICD 10 Watch- September 23,2016
It's less than two weeks before U.S. healthcare providers are expected to use more updated ICD-10-CM/PCS.
Update patient intake forms, insurance forms and superbills to include ICD-10 specificity. Make sure those forms aren't encouraging less specific ICD-10 codes.
Lookup codes instead of relying on ICD-9 to ICD-10 code maps. By nature, code maps and crosswalks lead to less specific codes. Start choosing more specific alternatives.
Reinforce ICD-10 training. Focus on learning how to code the most used diagnoses.
Make sure electronic health record (EHR) forms and billing software are updated. Call your vendors and test the updates as soon as possible.
Look for any trends with unspecified diagnosis codes. When and where are the unspecified ICD-10 codes being used? What can be done to make ICD-10 codes more specific?
Review use of unspecified codes in top diagnoses. It's worth the time making sure more specific diagnoses are being assigned.
Make sure clinical documentation can support more specificity in coding. Medical coders cannot assign specific ICD-10 codes if clinicians are not documenting the details needed.
Track denials. Maybe healthcare payers already are requring more specific ICD-10 codes.
Some basic steps will make sure ICD-10 coding remains manageable after Oct. 1.
Questions about ICD-10 codes and reimbursement? Physician Credentialing and Revalidation ? or other changes in Medicare, Commercial Insurance, and Medicaid billing, credentialing and payments? Call the Firm Services at 512-243-6844