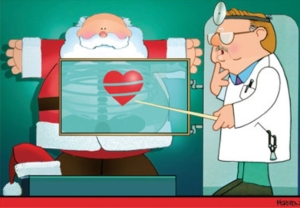 Written by  Wendy Aiken, PMI-ACP | Monday, 14 December 2015 00:00
We all have one: a beloved holiday flick that inspires us to deck the halls, snuggle up, and press play. Whether you're a die-hard fan of a Christmas classic, or you prefer the elven shenanigans of Will Ferrell, here's one holiday treat everyone should enjoy: the coder's complete ICD-10 list for holiday films.
National Lampoon's Christmas Vacation (1989)
Clark Griswold, our favorite overly optimistic father, is no doubt a Christmas movie legend. Despite his high hopes for the perfect family Christmas, he gets more than his fair share of merry misfortune. Blame it on his questionable light-hanging practices, extreme sled-riding, and obsession with that Christmas bonus (for a pool, of course).
T75.4XXA Electrocution, initial encounter
V00.221A Fall from sled, initial encounter
W16.0 Fall into swimming pool
It's a Wonderful Life (1946)
After George Bailey, a failing businessman, crashes his car into a tree, he wishes he'd never been born. But a guardian angel shows him that the world would be a grim place if he didn't exist, and George realizes he really does have a wonderful life.
V47 Car occupant injured in collision with fixed or stationary object
F33.4 Major depressive disorder, recurrent, in remission
R42 Dizziness and giddiness
A Christmas Story (1983)
Poor Ralphie endures a suspenseful holiday season pining for an official Red Ryder, carbine-action, 200-shot range model BB gun. His friend, meanwhile, learns an ice-covered flagpole can leave you tongue-tied, and Ralphie's father grieves the loss of his precious leg lamp.
W34.118A Accidental malfunction of other gas, air, or spring-operated gun
Q38.1 Ankyloglossia (tongue-tied)
S82.301A Fracture of lower leg, initial encounter for closed fracture
How the Grinch Stole Christmas (1966)
Leave it to our favorite Seussian grouch to remind us that the holidays aren't about the gifts. The self-exiled green monster attempts to steal Christmas from the quaint Whoville, only to learn that the festivities go on without the trimmings, the trees, or the roast beast. With a renewed faith in who-manity, the Grinch's small heart grows three sizes in one day.
Z72.811 Adult antisocial behavior
D50.8 Green sickness (hypochromic anemia)
I51.7 Cardiomegaly (enlargement of the heart)
Elf (2003)
When noticeably-too-tall Buddy accepts that he's not like everyone else in the North Pole, he heads out in search of his real father. But he soon discovers that the norms of Santa society don't translate well in New York City. His new family struggles to accept his overly excitable behavior, possibly caused by a diet of the elf's four food groups: candy, candy canes, candy corn, and syrup.
E38.4 Constitutional tall stature
R73.9 Elevated blood sugar
F90.9 Attention-deficit hyperactivity disorder
As you go to the movies, or however you enjoy your holiday, stay safe and happy in the New Year!
Happy Holidays from The Firm Services.