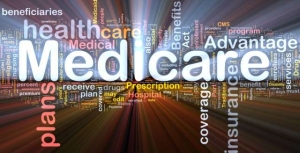 Bloomberg News -Zachary Tracer- April 18, 2017, 8:27 AM PDT
UnitedHealth Group Inc. is doing well doing business with the U.S. government. Just not in Obamacare.
The company has added more than a million customers in its federally-funded Medicare and Medicaid businesses since Dec. 31, bringing the total in the company's public programs and seniors unit to 14.9 million, it said in a statement Tuesday announcing first-quarter results. It had a total medical membership of 49.3 million people, even after largely quitting the Affordable Care Act's markets that many insurers once regarded as a source of millions of new customers.
Shares of the biggest publicly traded U.S. health insurer gained 1 percent to $168.90 at 10:50 a.m. in New York. They're up 31 percent in the last 12 months through Monday's close.
The company has been expanding in Medicare, where it offers private health plans for the elderly, and in Medicaid, where it helps states manage low-income individuals. Those businesses have proven to be more lucrative than Obamacare's individual market, where UnitedHealth broadly retreated after offering plans on the health law's exchanges in 34 states last year.
The trends in UnitedHealth's government business will help boost profits. The Minnetonka, Minnesota-based company predicted that earnings for the full year, excluding some items, will be $9.65 to $9.85 a share. That's well above the $9.51 projected by analysts, according to an average of estimates compiled by Bloomberg, and above the company's January forecast.
First-quarter earnings excluding some items were $2.37 a share, topping the $2.17 average of analysts' estimates.
Distracted Rivals
UnitedHealth has also benefited from the entanglement of its major rivals in two massive deals. Humana Inc. and Aetna Inc., the No. 2 and No. 3 sellers of private Medicare plans, in February ended their long effort to combine, after the transaction was blocked by a federal judge. Anthem Inc. and Cigna Corp. are embroiled in several legal challenges tied to their merger attempt, and a key ruling could come this week.
Health insurers are also getting a boost from a one-year pause of a tax on the industry under the Affordable Care Act. UnitedHealth said the tax holiday pushed the company's rate down to 30 percent, and that it expects the full-year rate now to be 32.5 percent.
The company said on a conference call with analysts that it's working to make the tax holiday permanent. Such a move would benefit consumers, who'd see lower premiums or more benefits, and would also bolster the insurer's profits.
Stephen Hemsley, the company's chief executive officer, declined to comment on the fate of the Affordable Care Act when asked during the company's call with investors.
"If you are following the media, generally speaking, you would be up to speed and we couldn't probably offer any more insights than that," Hemsley said on the call. "The media has been very accurate with respect to the narrative that is going on there."
Looking for Growth
On the call, company executives said they're seeking to grow in government programs that care for particularly vulnerable individuals, such as those who're eligible for both Medicare and Medicaid because they are either old or disabled, and poor. The company said it anticipates profit margins from that business would be about 3 percent to 5 percent.
The company's technology, consulting and medical-care arm, known as Optum, contributed to growth in the quarter. Optum posted operating earnings of $1.28 billion, 16 percent higher than a year earlier. Operating earnings at the health-insurance business climbed 15 percent to $2.13 billion.
UnitedHealth has used a series of acquisitions to expand Optum. In the first quarter, it acquired medical provider Surgical Care Affiliates Inc. in a deal worth about $2.3 billion. Surgical Care said it serves about 1 million patients a year at its 205 facilities. The OptumHealth medical unit mainly consists of urgent care and primary care, and saw revenue climb 18 percent in the quarter.
Growth was slower at the OptumRx pharmacy-benefits operation, where revenue increased 4.7 percent. The company acquired rival pharmacy-benefits manager Catamaran Corp. in 2015.
Questions about Medicare, Obamacare and reimbursement? Physician Credentialing and Revalidation ? or other changes in Medicare, Commercial Insurance, and Medicaid billing, credentialing and payments? Call the Firm Services at 512-243-6844